Vernita

(Vernita N'Cognita)
OH MERRY MONTH OF MAY
& sharing some images of collages made from those little net produce bags. These are not brand new for I showed them in Oslo in 2011 in "The Oslo Open" a show curated by Irene Christenson.
clever Vimeo, realizing how much we are loving cats these days, for April Fool's called themselves VIMEOW".
My cats are great and Shadow gets more & more loving each night... Jacob is a lap sitter as usual. And I'm updating my website... adding links to videos of recent performances to look at under My Performance Art... and thinking about the next one... but also thinking about new collages... inspired a bit by the Surrealist's Drawing Show at the Morgan Library. Gotta go again to look at the collages!
FEBRUARY ALREADY!
& MY SHOW AT THE AMARIN THAI CAFE - A PART OF WAH'S SALON SHOWCASE - IN GREENPOINT AT NASSAU AV & 617 MANHATTAN AV

(G TRAIN TO NASSAU). THE SHOW CONTINUES TIL MARCH 3RD. I'M SHOWING MY MARBLE COLLAGES & VEGGIE MESH BAGS.
TAKE A LOOK AT THIS LINK FOR BETTER PHOTOS & MORE INFORMATION.
http://www.wahcenter.net/salon/2013/nemac/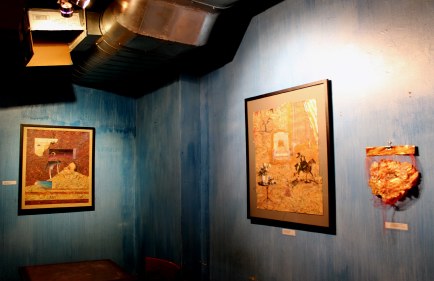 & OF COURSE, A GREAT NEW SHOW AT VIRIDIAN ARTISTS- THE 3RD ANNUAL PHOTO COMPETITION, OPENING RECEPTION SATURDAY FEBRUARY 9TH, 4-7PM & CONTINUING THROUGH FEBRUARY 28TH.
COMING UP IS VIRIDIAN'S 24TH (!) ANNUAL COMPETITION IN ALL MEDIA JURIED BY ELISABETH SUSSMAN OF THE WHITNEY MUSEUM. GO TO WWW.VIRIDIANARTISTS.COM FOR MORE INFO
OH & I CAN'T FORGET TO TELL YOU ABOUT THE NEXT ARTMEAT AT VIRIDIAN ON WEDNESDAY MARCH 20TH 5:45PM
SEE YOU SOMEWHERE!!!
2013 OH NO
I shouldn't say Oh No for already its ok. Things are slowly sorting out & much already is happening both for myself & for those artists I attempt to support in their endeavors in this crazy world.
OK, let me talk about myself for just a moment. Many things that I am involved in are going on right now as I attempt to hit the right key.
First, at Soho20:
"Se lec tions"- whatever that means.
A group of 20 artists, mostly female but not all, which I confess has always been somewhat of a problem for me, having come up in an artworld devoted primarily to male artists. But that is something to discuss at Viridain Artists 1st ArtMeat:
ARTMeat... an artist discussion/salon/meeting to talk about whatever. Next meeting 5:45 Wednesday January 23rd AT VIRIDIAN ARTISTS, 547 W 27TH ST. #632. COME one Come All!
Back to ME!- I'm n the show afor mentioned above & opening at the Amarin Cafe Friday January 11th, 6-8pm - do come! in Greenpoint- the G train to Nassau Av @ 617 Manhattan Av- not an easy trip unless you are Polish or a starving artist who lives nearby but serving Thai appetizers & wine & talk about ART, that blessed topic of converse & solutions to what troubles all if all would only realize & listen!
& then yet another exhibit at Viridian itself which I confess I am the Director of in the spirit of Betty Parsons. She not only "discovered" Pollock but was able to recognize so many valuable artists of today. Already those artists are no longer young but leave a legacy of survival to the cultural world of the next generation of artists who are willing to fight their own battles despite the powers that continue to be.
That show - "Disconnected Realities", an international gathering of 11 fascinating artists who will show a sampling of their art January 15 th to February 2nd with a joyful reception on Thursday January 17th 6-8 pm @ 547 W27th St. suite 632. Come one, come all!
MID-JUNE already!
so much has been going on, I dont really know where to begin so I'll just plunge in & mix it all up... what's happened & what's happening!
NEW ART@SABAY!!!! Opening this week at SABAY CURaTORIAL SPACE & Restaurant is Lauren Purje, Brooklyn artist from Ohio... opening reception Wednesday June 15 6-8PM:
Sabay Thai Restaurant & Curatorial Space is located at 75-19 Broadway near 75th St in Elmhurst, Queens
Directions: By subway, take the R, E, F, Q or W to
Roosevelt Av/Jackson Hgts.
or the # 7 to 74th st/Broadway.
For other modes of transport, please check their website.
Also, a Shadow has entered my world- a kitten I rescued at one week who needed to be bottled fed every 2 hours- the perfect grey of the color of shadows & so his name.
Will try to add pictures if I can!!!!
Almost May
What an incredible week!!!!
Opened the Detritus Show Saturday at WAH Center - www.wahcenter.com- the show has 64 artists and more art made from trash... its on thru May 29th - Wednesdays- Sundays 1-5. Directions on the WAH Center (Williamsburgh Art & Historical Center) website. We got our first New York Times write-up in the Metro Section Sunday, April 24th!
WAH Center is at 135 Broadway at the corner of Bedford Av near South 5th St. By subway, take the J to Marcy & walk 3 short blocks on Broadway towards the bridge. Call 718 486 7372 or 718 486 6012. Or take the L to Bedford, then the bus on Driggs to Broadway, Or if its a nice day, walk the 15 blocks south on Bedford. Hope to see you there!
And April 29 to May 2 is my Open Studio as part of the TOAST ARTWALK. I have to be 2 places at once 4-6 on Saturday, so I will only be open 1- 3:30 that day, but sunday & Monday I will open 1-6 & Friday night 6-9. Phone 212 925 4419.
April 2011
Apologies, but the reception at Sabay has been postponed. We will let you know when it is re-scheduled... but the art is up, so stop by for lunch or dinner and perhaps we will see you there!
Finishing up details for upcoming Art from Detritus Exhibition of 60 or so artists at the Williamsburgh Art & Historical Center (WAH)
opening April 23rd but before that
You are invited to the new exhibit @ Sabay Curatorial Space for Marc Cavello. Stop by & take a look as you are eating!
His paintings which are printed on canvas will be up for the next 2 months and are available for just $250 each.
Sabay Thai Restaurant & Curatorial Space is located at 75-19 Broadway near 75th St in Elmhurst, Queens
Directions: By subway, take the R, E, F, Q or W to
Roosevelt Av/Jackson Hgts.
or the # 7 to 74th st/Broadway.
For other modes of transport, please check their website.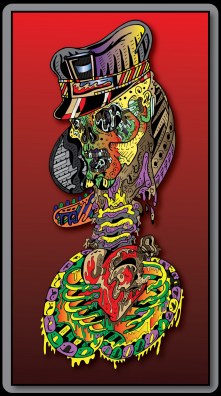 Marc has been working as an artist for the past fifteen years since his graduation from the Rhode Island School of Design in 1996. His accomplishments have included mediums in drawing, painting, music, film, video, writing, theater, cinematography, photography, and sculpture. He has produced and directed five short films and has worked as a cinematographer for over thirty shorts and features. He has also produced, written, recorded, and performed twenty-one music albums. An integral part of his life is dedicated to drawing, music, and daily meditation. He currently resides in Lattingtown, New York. Please visit
www.marccavello.com
.
SABAY CURATORIAL SPACE has a changing exhibition of contemporary art every 2 months or so
showing art that isn't seen enough outside the conventional gallery setting.
Whether you are an artist or art lover, we hope that you will enjoy
having your meal in this creative setting & perhaps,
even consider purchasing an artwork for your home.
Artists, is your art seen enough?? If not, send me your jpegs!
March 2011
Already we approach the Ides of March... what that means I'm not sure, but its a warning that time is passing oh so quickly. So I must make mention of this wonderful recent review of a performance at Ceres that I did with Sean. Check it out
here
. Thank you thank you, Chelseagallerista! You and your honey got it!
January 2011
For months I've been thinking about creating a blog and now finally I've decided to just do it here since I must frequently update what's going on in my creative & curator life.
So, first, coming up April 23rd, 2011 (the day after EarthDay), I will be opening the latest "Art from Detritus: Recycling with Imagination" exhibit at the Williamsburgh Art and Historical Center (WAH). Its a huge and beautiful exhibition & performance space in an old bank building just across the East River and near the Williamsburgh Bridge in Brooklyn. Since the space is huge, there will be even more artists- some you've seen in past Detritus shows and artists who are new to us. There is a March 1 deadline for new artists to apply who work with recycled materials, trash, found objects. More info to come, but basically send me 3-5 jpegs to my email: ncognita@earthfire.org with the usual info. Click above on Art from Detritus to see what I need.
By the way, the Art From Detritus show that happened at Viridian Artists in November was named the best group show of the week by NY Arts!
There's a new exhibition at Sabay Curatorial Space which consists of photographs by the artist David Rodgers. Small 8x10" black & white photos, they are his version of anonymous photographs found in an attic. The reception was also a "good-bye for the moment" party for his lady friend Katrina, a German photographer returning to her home there. She'll be back though! David's show will be up through February, so stop by the Sabay Thai restaurant ( address in September 2010 listing below) for lunch, dinner &/or happy hour & take a look at the walls. I'm always interested in looking at new work, so email me your jpegs if you feel your art goes with Thai food!
September 2010
There will be a new Art from Detritus Show at Viridian Artists Inc in Chelsea in November. If you make art from trash that you have salvaged or stuff that would have been discarded if you hadnt rescued it, click on Art from Detritus above for info on how to apply for this latest incarnation of the show.
I like to stay busy & so have accepted a request of Viridian Artists in Chelsea, to return as their director. If you don't know the gallery, you should, for the artists who exhibit there create art in a diverse range of media, style and contemporary concerns- all outstanding. If you are a serious contemporary artist who wants to have your work seen in the art capital of the world, check out www.viridianartists.com and see how to apply for representation. Also, we are having a photo competition that will be juried by Elizabeth Sussman of the Whitney Museum. As an insider reading my website, I will let you in on a secret- I am extending the deadline til november 15th so do not dispair! There is still time! Currently on view there are the paintings of Arthur Dworin- filled with lush & sumptuous color.
I have recently begun a curatorial space for exhibiting the art of under-recognized artists at the
Sabay Thai Cafe
in Elmhurst, NY. Far psychologically from Manhattan but an easy E train ride there. And its where the Q60 bus leaves for LGA Airport so you can even fly away after!
Beautiful art & delicious food! Images will be here soon but check out their website for location and menu. If you are an artist interested in showing there, email 6 jpegs (no larger than 500 dpi in either direction), your bio & a brief artist statement to: ncognita@earthfire.org. You might check out the space (& the food!) before so that you can select art that will be appropriate size-wise. I suggest no art larger than 40" square or smaller then 8x10". And of course, ready to hang.
Sabay Thai Curatorial Space
presents
'landscape as patch'
new work by
Annaliese Bischoff
October & November, 2010
Now on view at Sabay is the art of Annaliese Bischoff, beautiful tiny collages. Just before, a variety of my collages from the past few years. Included are my small Haiku collages as well as other works. Just finished was a show of the artful sunmade photographs of Massachusetts photographer Janet McClish. February/March at Sabay featured 2 artists who work with landscape & watercolor in very different ways- E Margo (Edie Schlesinger) studied painting in China for a number of years and as a result, her artistic expression was transformed. George Ludway, a cartoonist for most of his life, turned to watercolor at 75. He trained himself in the difficult media of watercolor, gaining the reputation in his native Ohio as the "Shanty Man" because of his numerous paintings of hidden woodsy abodes. In this show, his traditional Western approach to landscape is contrasted to E Margo's more Eastern interpretation.
As you may know, I am an artist of split persuasions- a performance artist and a visual artist as well as a curator of exhibits in which art and politics touch or,
if necessary, collide. My base is New York City but I love to travel & as often as possible, I use my art as an excuse to go somewhere I've never been.
I've had some wonderful interns these past few months who have been working diligently on archiving videos of my past performances , some of which you can now see on UTube. They also were stage crew for my most recent performance, "Dress", presented at DTW in NYC at the end of June. It was a new piece that I have been developing at Farspace through a Fieldwork grant. I hope that will be up on the web soon too. Special thanks to Jenn Hitchings, Katherine Walton, Joselyn Crocco and Cameron Kafura. Also, special thanks to The Field, dancer Nicole Lee and artist Katya Grohovsky. I am hoping to take the piece to Tokyo!
I will be performing in Tokyo- actually in Izu City just outside Tokyo- in October, 2010. If you have friends there who might like to attend or friends I can touch base with there, please let me know. I will be performing there with the Japanese guitarist Kazuyosi Yamada at the studio of friends of artist Namiyo Kubo.

At the end of April, in connection with the TOAST Artwalk I had an Open Studio at my loft on Canal Street. Please email me at ncognita@earthfire.org if you'd like more information (about any of this!) or just want to touch base!

Thank you for all to came to the Artists Talk On Art evening which I hosted to honor Nancy Spero, who died last October and whom I consider to be my "art mother". She was an incredible lady who never compromised her art or her character. She was generous to all with information, support and love and will be greatly missed. A video of the evening will be available soon that includes much footage of her speaking about her art, so contact Artist Talk On Art directly if you are interested. Now there is a wonderful show of Leon Golub's (her husband) last series of drawings & a wonderful vidoe of them both at the Drawing Center in Soho.
In December, I will be presenting an evening of "Open Performance at Artists Talk On Art which meets at Soho 20 Gallery in Chelsea. These will be 5 minute live performances, quick set up & take down with no tech. If you are a performance artist, please send me a brief description of your piece & your website or Utube video of your work to my email address by November 1. 20 or so performances will be selected.
I hope to interview Arthur Danto about his latest book & his thoughts about Art & Philosophy soon on video after we had to cancel our live interview at ATOA. I will let you know when that is available.
I really should start a blog I suppose, but...

My recent past included:
Performances fall/winter 2009 occurred at Soho 20 Gallery Benefit when they moved to their new location @ 547 W 27th St, Chelsea, NYC on October 24; Dance Theater Workshop,
Movement Research Open Performance Series
, on November 18.
In December 2009, I presented a performance at Ceres Gallery in Chelsea called "The Other F Word", presented during their Exposures Exhibition Series. I exhibited 4 large collaged and painted pieces from my dress series and sold "Forgiveness" to a friend/ collector! This body of work has not been seen much but it is a series that I will continue developing in 2010.
I am continuing too my ongoing installation entitled the Endless Junkmail Scroll in which I collage security envelopes into an ongoing artwork that is sold by the linear inch. That work has been most recently shown in 2009 at Manhattanville College in Purchase NY. Before that it appeared at Gallery 128 on the Lower East Side of NYC, at Central Wyoming College in Riverton WY, at Huntington Long Island in June of 2006 and Cape Girardeau MO in September of 2006.. I see it as ongoing, just as our junkmail sadly seems to be, but please don't send me any until I've figured out a way to work faster!
I am also a performance artist in New York City and have been studying butoh for the last 10 years or so which I incorporate into my performances. I' ve practiced Butoh movement with Noboru Kamita, Eiko, Kim Ito, Akira Kasai, Atsushi Takenouchi, Ko Murobushi, Yumiko Yoshioka & others at Japan Society & The Cave in Williamsburgh, Bklyn; I also participated in the Time Based Art Festival in Portland Oregon, September 2004 with 33 Fainting Spells; Deborah Hay, etc. I plan to present a Butoh workshop in Skopelos Greece in 2011.

In 2005 I performed in Darmstadt Germany in an international project of art & performance in gardens. Previously I was part of the 5 Cities Project in Tokyo, as well as being a presenter at the PSI (Performance Studies International) Conference in Mainz Germany.

In January 2006 I presented a guerilla performance at the Pompidou Centre in Paris, France entitled "The Silver Rose." and another in 2007, "Barbie in Paris". In 2007, I also performed in Dublin, Ireland at Monster Truck Gallery and in 2009, I was honored to be selected by Movement Research to perform at Judson Church, where it all began. As you might guess, I love to travel and have been around the world (in 90 days) and in addition to those cities mentioned above, I have performed or shown my art in Budapest, Hu and Mexico City and aim to still add more to the list...